I bought a 5"x7" unlined notebook for Michaels for about a $1, and it was the greatest little purchase I've made in a while. I went back and bought one in each style.
Day 1: Little witch girl based on a previous sketch I had made
Day 2: Exploration of a concept I had drawn for a class project
Day 3: Vampire teenage girl. But she's non-violent!
Day 4: The Stars and The Moon
Day 5: The Moon watching the shooting stars
Day 6: Vintage inspired beach day
Day 7: Sexy dancer girl
Day 8: My Aunt-in-Law's pet dog, Pumpkin
Day 9: I was really excited for the return of Gilmore Girls
Day 10: I decided to chronicle the foods we had on a family trip to Pier 39
Day 11: Persimmons from my parent's backyard
Day 12: Succulents from my parent's backyard
Day 13: From a trip to the museum
Day 14: Another statue from the museum (sketched on site, inked later)
Day 15: The cutest pair of friends ever, from Steven Universe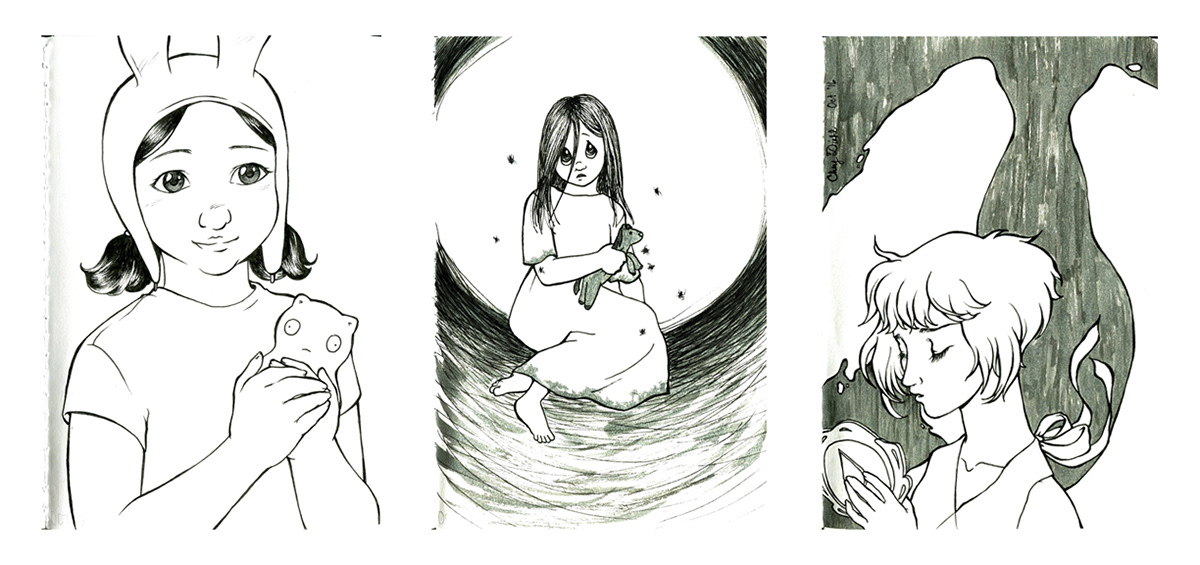 Day 16: The fan-art continues in the form of Louise from Bob's Burgers
Day 17: The girl from The Ring in the Precious Moments style
Day 18: Another Steven Universe drawing, this time of Lapis Lazuli
Day 19: The Moon and Stars characters, again
Day 20: New version of the moon incarnate
Day 21: My version of Romeo and Juliet
Day 22: I was really excited to get a new bike
Day 23: ...until I crashed it. (Got right back up, though)
Day 24: Good luck, right?
Day 25: Last Steven Universe fanart, I swear
Day 26: Harry Potter fanart this time. James Potter and Lily Evans
Day 27: I was binge-watching izombie at this time
Day 28: Book-lover
Day 29: I fell behind by the end of the month, and finished late
Day 30: The lovely fall weather was making me a little day-dreamy
Day 31: My moon character redrawn with her eyes aglow